About Hotline Volunteering
Hotline Volunteer Application Process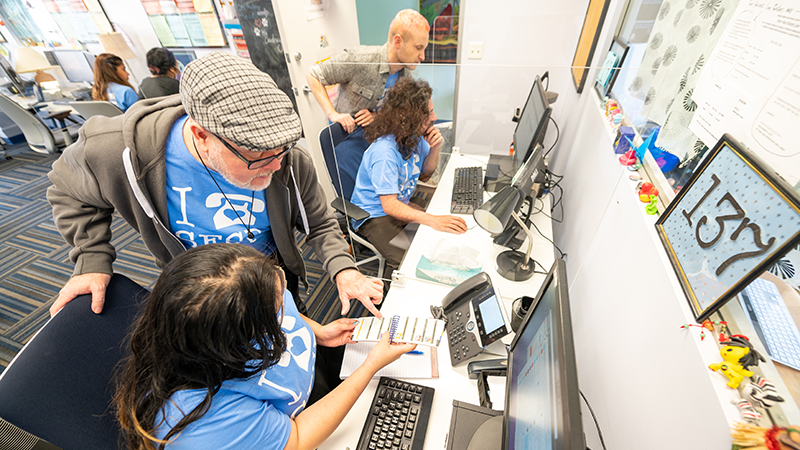 Apply today for our next cohort!
Our 2023 cohorts will start in January, March, June, August, and October.
Applications must be submitted at least one week before the first Saturday training of the upcoming cohort. (Applications received after the deadline will be considered for the next cohort.)
Each cohort will meet on Saturdays to receive didactic training from staff for 6 weeks (sample schedule in the Volunteer Training tab below).
Trainings are held

in person

at our office in San Francisco.
In conjunction with the training sessions, you'll be mentored by an experienced volunteer or staff member for 5 weeks.
Requirements:
Immediately following the completion of training, you must take one shift per week for the following 52 weeks, or 200 total service hours. In addition, one shift volunteered on a holiday and attendance of one continuing education seminar (hosted by SFSP). After volunteering for one year or 200 hours, you must pick up at least one four-hour shift monthly to maintain volunteer status.
Must be 20 years or older.
Must complete the application and interview process
We seek caring and reliable individuals willing to commit to emotionally challenging work.
Open availability
Professional, volunteer or personal experience with mental health issues is preferred but not required.
For other questions unrelated to the status of your application, contact us at sfsuicide@felton.org.
Screening Process
In order to provide the best service to our clients, we carefully review applications, conduct a phone screen and interview, complete a reference check (3 references checks), and background check. This process takes 30 days before the class begins.
NOTE: These references may be friends, coworkers, significant others, supervisors, professors, fellow volunteers, etc. They may not be family members or therapists. The best people to list as references are people who have known the candidate for a long time, can speak to their ability to handle crisis situations, emotional stability, and reliability. Also essential is that the references are easily contacted by phone or by email.
Volunteer Training
The training program is seven weeks which includes classroom training, homework, readings, and mentorship. You may miss a maximum of one class in the didactic training (the final class is mandatory). Classroom trainings occur on Saturday mornings.
Sample Cohort Schedule:
| | |
| --- | --- |
| Week 1: March 18th 9am-2pm | Week 4: April 8th 10am-2pm |
| Week 2: March 25th 10am-2pm | Week 5: April 15th 10am-2pm |
| Week 3: April 1st 10am-2pm *Mentorship begins* | Week 6: April 22nd 10am-2pm      *Week 7 Mentorship only* |
NOTE: There is an eighty-dollar ($80) training fee, to be paid right before the first class in cash or check. New volunteers may miss up to one class and will still be required to make up the material before taking calls on the line.

Didactic Training: 
Classroom trainings will occur every Saturday from 10 am-2 pm over Zoom/In-Person.
Classroom trainings will include assessments, lectures, role-play, discussions, and evaluations. Didactic trainings will also utilize our learning management system to provide makeup online learning, homework assignments, and tracking your overall progress. We cover various training topics such as Basic Counseling Skills, Suicide Risk Assessment, Cultural Humility, Drug/Relapse Training, HIV Nightline, Mental Health Overview, Advanced Challenging Calls, and Compassion Fatigue and Self Care Training.
The total hours to complete will be over 32 hours.
One-On-One Mentoring: 
Every new volunteer will be paired up with a senior volunteer or staff member in order to be mentored in crisis line skills. This four-hour weekly mentoring will be an opportunity to practice taking calls in a safe, supportive environment.
Scheduling for this shift is flexible, but will fall into the usual crisis line shift schedule, and is also dependent on mentor availability.
Minimum Volunteer Commitment
In order to be accepted as a volunteer to SFSP, all candidates must sign a contract committing to a minimum of 52 weeks (at four hours per week) of service. If a candidate will not be able to commit to a year, we will accept individuals who can agree to complete more than four hours per week of service, as long as they commit to a minimum of 200 hours. Active volunteering must be started as soon as training is completed, and all volunteer shifts take place in the call room at our main offices in downtown San Francisco.
Potential shift blocks are available at the same times seven days per week. They include: 7 am – 11 am, 11 am – 3 pm, 3 pm – 7 pm, 7 pm – 11 pm, and 10 pm – 2 am. People who would prefer to come in once every other week are welcome to do our overnights, which are 11 pm – 7 am. Shift availability is dependent on holes within our current schedule but is usually pretty flexible. We do not offer shifts outside those times. All volunteers must be willing to work within those hours.
All volunteers must also agree to volunteer on one holiday for four hours, and attend one continuing education seminar. SFSP continuing education seminars have covered topics such as cultural diversity, LGBTQIA+ concerns, working with youth, domestic violence/sexual assault training, emergency services, and graduate school selection. It is mandatory to complete continuing education (minimum of two classes per year).
Volunteers are permitted and encouraged to take time off, but they must make up this time at another point. For every missed shift, a volunteer agrees to take an additional shift at another point. Available 'make-up' shifts are distributed weekly by the volunteer coordinator.
Additional FAQ's
Graduate School Support: SFSP will only write letters of recommendation for volunteers who have completed 200 hours of service and have met all the requirements listed above.
Following Completion of Minimum Volunteer Commitment: Due to the fulfilling nature of the work, most volunteers choose to continue at SFSP after their 200 hours of service. Either they will continue doing one shift per week or will decrease their commitment to once per month. All continuing volunteers must do at least one shift per month to stay active.